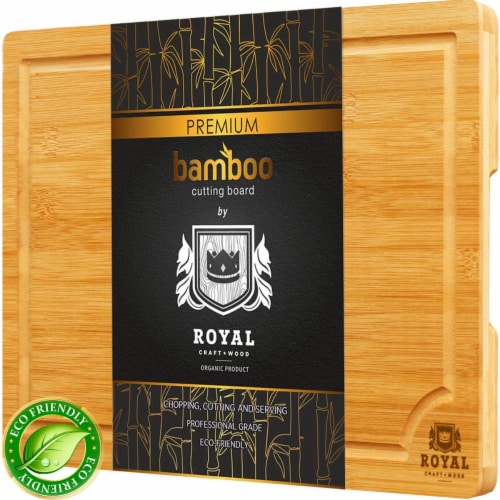 Hover to Zoom
Small Bamboo Cutting Board for Kitchen with Handles & Juice Groove
Product Details
Small Bamboo Cutting Board for Kitchen with Handles and Juice Groove - Butcher Block for Chopping Meat and Vegetables
Stylish and creative design
A Royal Craft Wood bamboo board is a simple yet elegant. Itll work as a beautiful cutting board as well as a solid serving tray.
Double-sized board with side handles
The board is extremely comfortable to use - you can cut on both sides. If youd rather use the butcher block as a serving tray, weve added side handles to a design so that the platter is comfortable to hold.
Knife-friendly surface
The board is gentle to all knife blades. The board will look as good as new and serve you for a long time.
Dedicated support service
People have questions regarding the kitchen boards all the time - how to take care of it, what knives to use, etc. Royal Craft Wood has a dedicated support service that will answer all of your questions.
Royal cutting boards for kitchen with side handles and deep juice groove: chop meats and chicken, cut vegetables and use it as a stylish serving tray for steaks or fancy barbecue platter
Knife-friendly butcher block: there's nothing like cutting on bamboo wood. Our chopping board keeps the blade of your knives sharp and makes prep work enjoyable
Just the right size board: 10 x 15 inches cutting board helps make cutting easier and safer. Its ideal for leaving it on a countertop or storing it in a drawer
Antibacterial 2-sided board: Eco-friendly bamboo cutting board is not only naturally safe and holds antimicrobial properties but is also reversible and heavy duty
Royal quality: We are positive youll find this kitchen butcher block convenient and you stay happy with the quality
---