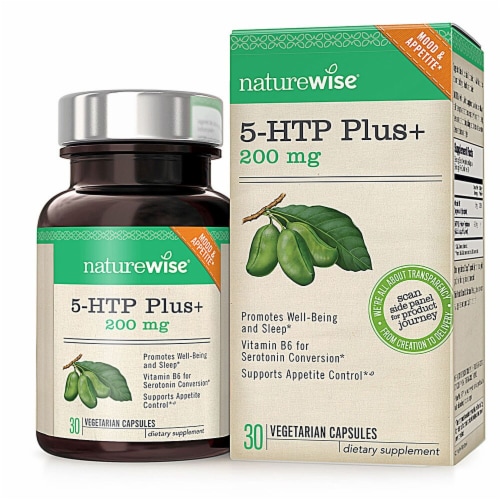 Hover to Zoom
Naturewise Daily Care Products 5-HTP Plus
Product Details
NatureWise 5-HTP Plus+ 200 mg
Derived from the seeds of the Griffonia plant, 5-HTP is a building block of serotonin, the "feel good" neurotransmitter that regulates our moods, sleep cycles, and even our response to pain. Designed to give an added boost to your overall wellness program, NatureWise 5-HTP Plus+ provides natural ingredients to maintain mood and reduce stress. Preliminary evidence suggests that supplementation with 5-HTP may additionally promote weight management by helping to control appetite.
NatureWise 5-HTP Plus+ includes vitamin B6 to help 5-HTP''s conversion to serotonin. Our 200 mg formula is made with specialized delayed release capsules to help alleviate stomach discomfort that can sometimes occur with larger doses of 5-HTP.
» Mood, Stress & Appetite Support
» Vitamin B6 For Serotonin Conversion
» 200 MG Delayed Release Capsules
» Doctor Formulated
» Non-GMO, Vegan Gluten-Free
Live Healthy. Live Happy
At NatureWise we believe that when you increase health & happiness in the world, it benefits everyone. From our products and customer support to the way we give back, it''s all part of our mission to help people live healthier, happier lives.
*These statements have not been evaluated by the Food and Drug Administration. This product is not intended to diagnose, treat, cure, or prevent any disease.
---