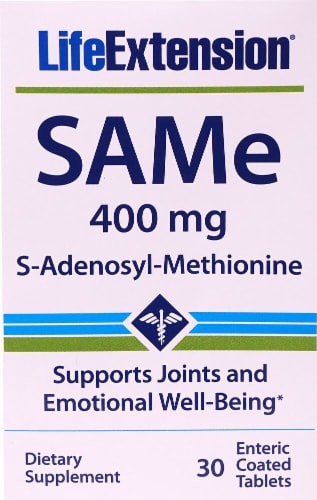 Hover to Zoom
Life Extension SAMe S-Adenosyl-Methionine Tablets 400mg
Product Details
SAMe has multiple mechanisms of action that are used throughout the body
Brain and Mood
SAMe boosts brain cell methylation and facilitates youthful DNA enzymatic actions. These enzymatic actions are required for the healthy conversion of neurotransmitters such as norepinoephrine, dopamine, and serotonin and may account for SAMe''s mood-elevating properties. SAMe also helps maintain acetylcholine levels which are necessary for cognitive function.
Liver and Detox
In order to perform its detoxification role, the liver continually performs large numbers of complex enzymatic reactions. SAMe facilitates healthy methylation enzymatic processes and boosts hepatic levels of glutathione, a critical antioxidant.
Joint
SAMe may help to ease inflammation and can support healthy joint and mobility and function without side effects.
*These statements have not been evaluated by the Food and Drug Administration. This product is not intended to diagnose, treat, cure, or prevent any disease.
---