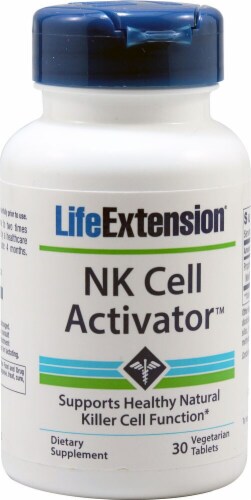 Hover to Zoom
Life Extension NK Cell Activator™
30 Vegetarian Tablets
UPC: 0073787019033
Product Details
Natural killer (NK) cells function as the body''s first responders. As soon as NK cells sense a potential invasion, they are on the scene to initiate immune protection. Natural killer cells promote seasonal support for the body''s natural defense system.
In addition, functional NK cells recognize and eliminate senescent cells that accumulate in aged tissue and create metabolic disturbances. As we age, natural killer cell activity markedly declines with a concurrent weakening of normal immune functions.
For targeted seasonal protection, a formula called NK Cell Activator has been developed, which contains a modified rice bran shown to be a potent immune modulator. NK Cell Activator supports the activity of natural killer (NK) cells - crucial components of the innate immune system.
*These statements have not been evaluated by the Food and Drug Administration. This product is not intended to diagnose, treat, cure, or prevent any disease.
---