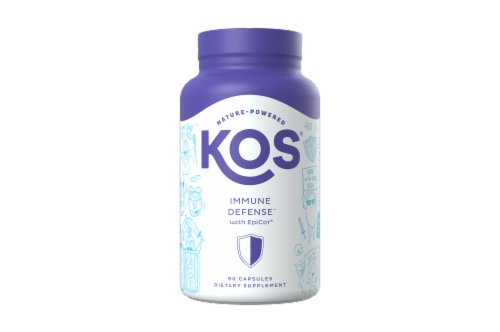 Hover to Zoom
KOS Immune Defense with EpiCor Capsules
Product Details
EpiCor® (nerd-name: Saccharomyces cerevisiae) is a specially prepared yeast—a fermentate, that is—whose particular talent makes it a whole food worth getting to know. Add oregano leaf, olive leaf, reishi and lion's mane mushroom, echinacea, elderberry…what you have is an immunity salad in a capsule. No tossing necessary.
Pure Elderberry Extract: Our formula contains elderberry / Sambucus Nigra, which is commonly known and prized for its immune support benefits. Our proprietary formula is surely more potent than elderberry syrup and elderberry gummies for adults.
Contains EpiCor: EpiCor is a rare fermentation ingredient that contains compounds and metabolites which work together to boost your immune system response. It has been clinically studied to be considered GRAS.
Potent Herbal Formula: Loaded with elderberry, Vitamin C & Zinc, which may be the most prized supplements for enhanced immune function. Added ginger, lion's mane, cordyceps, oregano, olive leaf + more make this a truly reliable & potent supplement.
Premium Quality: All of our products are produced in a GMP & NSF certified facility. Additionally, each batch of product is Third Party Tested by a verified source to ensure potency, purity and quality.
---