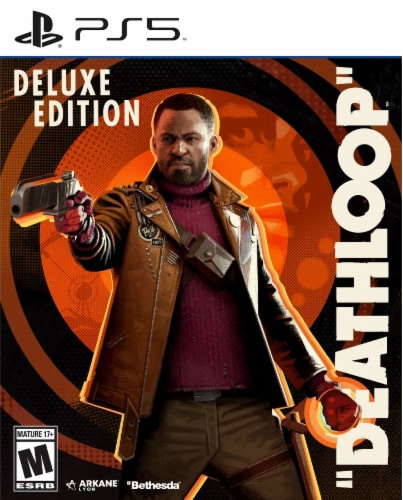 Hover to Zoom
Deathloop Deluxe Edition (PS5)
Product Details
Take on the role of Colt as you search for a way to put an end to a timeloop trapping Blackreef while being hunted by the island's inhabitants. Use weapons and abilities to take out eight key targets across the chaotic island before the day resets. Rival assassin Julianna sole mission is to take Colt out and keep the loop going. Learn from each cycle, try new paths and approaches to break the loop once and for all.
Survive a deadly game of hunter vs hunted in first-person action with powers and savage weaponry. Choose your playstyle: Sneaking or barrelling gun-first into the fight. Single-player and multiplayer gameplay.
Each new loop in is an opportunity to learn from the past. Explore the island of Blackreef. Dynamic 4K resolution 60fps, with HDR, Ray-traced shadows and ambient occlusion. Fast loading, Haptic feedback. Adaptive triggers.
---